PVTIME – Suntech, a leading global photovoltaic manufacturer engaged in the R&D and production of crystalline silicon solar cells and modules, is pleased to announce that Shunfeng International Clean Energy Limited (SF-PV), Suntech's wholly-owned parent company, has signed a cooperation agreement with the People's Government of Suzhou City and Suma Park of Suzhou City, Anhui Province of China, on 14 February 2023 for a 10GW high-efficiency solar cell manufacturing project, a PV and wind power generation project and an energy storage project.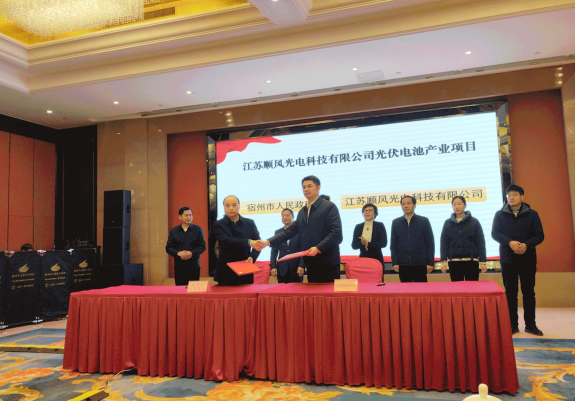 These projects, with a total investment of 10.5 billion yuan, will be a core part of the global new energy business layout for SF-PV and Suntech with an increase in production capacity. As a leading solar cell manufacturer, SF-PV has established major production bases across China, such as Wuxi City, Changzhou City, Chuzhou City and Suzhou City, with a total annual production capacity of 16.5GW of solar cells and 25GW of modules, ensuring the supply chain for overseas customers.
Meanwhile, reliable products and services are crucial for the company. SF-PV's smart factories are designed with automated production lines and high-tech equipment to produce all mainstream high-efficiency n-type TOPCon solar modules, including 210mm large-size MBB high-power wafers. And it will never stop its technology innovation and service improvement.
"Promoting renewable energy projects in our city in 2023, which is the post-pandemic year, is important for the transformation of traditional fuels into clean ones as part of China's 14th Five-Year Plan," said Qirong Wang, Mayor. "The two sides will give full play to the advantages of all parties and deeply integrate to further promote the construction of these projects. And our new partnership is expected to bring win-win cooperation to promote the development of clean energy and green power in the city, so as to fulfil China's Dual-Carbon Goals."