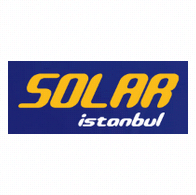 Solar Istanbul 2020
Ⅰ. Introduction:
The need for clean energy resources due to global warming and climate change is increasing day by day. With its hours of sunshine and its geographical location, solar energy has become a very important sector in Turkey. Solar Istanbul – Solar Energy, Storage, E-Mobility and Digitalization Exhibition & Conference will be held on 11 – 13 March 2020; leading companies from the sector will meet with key buyers. In addition, the latest technological developments and the latest systems in the field will be discussed at Istanbul Congress Center.
Ⅱ. Exhibition Scope:
1. Photovoltaics
● Solar cells
● Solar cells and modules
● Crystalline PV modules
● Thin-film solar modules
2. Balance of systems
● Inverters
● PV monitoring, measuring and control Technologies
● Building Integrated Solutions (BIPV)
● Stand-alone systems, off-grid systems
● Small solar devices
● ICT, PV software
● PV components (cables, connectors, junction boxes, etc.)
● Mounting systems, installation aids
● Tracking systems
3. Production technologies
● Automation technology
● Monitoring and measurement technology
● Materials and components
● Manufacturing Equipment for ingots, wafers, raw material polysilicon, UMG, etc.
● Manufacturing Equipment for solar cells, modules, thin films
4. Digitalization
● Landscape: maximising economic recovery and cross industry collaboration
● IT & Digital as a driver of efficiency, business improvement and problem solving
● Analytics, data-driven decision making and business
● Intelligence
● ...
5.E-Mobılıty Product Groups
● Drive technology
● Energy charging systems
● Vehicle systems
● Infotainment | telematics
● Interior technology
● IT Engineering
● Technology for chassis/Driving Gear
● ...
6. Energy Storage Systems
● Stationary applications for residential buildings
● Stationary commercial and industrial applications
● Stationary applications for utilities and grid operators
● Low-capacity mobile applications (smartphones, laptops, tablets, etc.)
● Uninterruptible power supply systems (UPS)
● EPC contracting/project development for energy storage systems
● ICT, software for energy storage systems
7. Others
● Engineering and design
● Consulting
● Research and development
● Test institutes
Ⅲ. Exhibitor Profile:
● Inverters
● Chargers
● Batteries, Cables, Connectors
● Junction Boxes
● Solar Tracking Systems
● Building Integrated Solutions
● Solar Power Plants
● Energy Storage Systems
● EPC Companies
● Gel Batteries
● Solar Lighting, Power Supplies
● Solar Energy Products
● Absorbers
● Heat Transfer Fluids
● Measuring and Control Technology
● Mounting Systems
● Storage Tanks
IV. Visitor Profile:
● Regulators
● EPCs
● National Grid
● PPA Providers: Utilities, ESCOS, Traders, aggregators
● Finance community: Banks, boutique mezzanine providers, renewable asset owners, private equity
● End users: Housing Associations, Local Authorites, Installers, Large energy users
● Developers from all backgrounds entering the market and targeting a wide range of segments both local focused and international
● Solar Equipment Manufacturers
● EV Manufacturers
● Energy storage companies and their supply chain
● Utilities and large energy companies
V. Conference Scope:
● Policy and regulations
● National Grid Needs and Strategies
● How to thrive in an ever-changing market strategies and business models for developers
● Solutions at the forefront of the energy digitalization
● International & Local authorities roundtable: interactive sessions uncovering the opportunities in overseas markets as well public sector plans for solar market and energy storage
● Finance: creating bankable revenue stacks
● Case studies from the most successful commercial projects, both in Turkey and abroad for energy storage and solar
● Innovation and integrated systems, applicability, bankability, and commercialization stage
● Solar Technologies and Applications