PVTIME – China Photovoltaic Industry Association (CPIA) held its "2020 Photovoltaic Development Review and 2021 Outlook Conference" via web broadcast this morning. During the cloud conference, Wang Bohua, Vice Chairman and Secretary-General of China Photovoltaic Industry Association, presented a detailed review of the photovoltaic industry in 2020 and provided the CPIA's outlook on the development situation for the photovoltaic industry in 2021.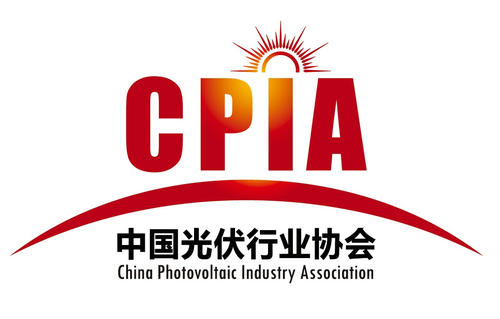 Review of 2020
1. The photovoltaic industry has become a societal focal point. In the past, only renewable energy related media outlets paid close attention to its development. However, we are now seeing mainstream media reporting on its progress, leading to an increase in awareness of the societal benefits provided by solar and renewable energy. With the announcement of China's goals of reaching carbon peak by 2030 and carbon neutrality by 2060, the political environment will become more conducive to photovoltaic development than ever before.
2. Domestically, China added 48.2GW in newly installed capacity in 2020, which is an increase of 60% year-on-year. In a year riddled with challenges, this achievement exceeded the expectations by a long shot. A record-breaking 29.4GW were connected to the grid in the fourth quarter alone. Among the newly added capacity, 10.1GW came in the form of distributed installations, which averages out to about 918MW a month.
3. In terms of domestic manufacturing capabilities, cell output for 2020 was 134.8GW, a year-on-year increase of 22,.2%. Module output reached 124.6GW in 2020, a year-on-year increase of 26.4%. Polycrystalline silicon production exceeded 397,000 tonnes for the year, a year-on-year increase of 14.6%, and wafer production reached 161.3GW, an increase of 19.7% year-on-year.
4. In terms of imports and exports, China's polysilicon imports decreased by 30% to 99,000 tonnes in 2020. Module exports, in terms of USD, was down 5% in 2020 to US 19.75 billion.
5. In 2020, the top five destinations for Chinese modules were the Netherlands, Vietnam, Japan, Brazil, and Australia, respectively. The global installed capacity increased by 13% to about 130GW. The top five countries in terms of newly installed capacity were China, the United States, Vietnam, Japan, and Germany, respectively.
6. In terms of photovoltaic technological development, since 2014, China has broken the record for cell conversion efficiency 29 times. In 2020, the average conversion efficiency of mass-produced PERC cells was 22.8% and the average conversion efficiency of mass-produced poly-si PERC cells was 20.8%.
7. In 2020, global photovoltaic power generation costs continued to decrease. System costs decreased by 12.3% while module costs fell by 10.3%. Non-technical costs fell by 0.3% but land costs rose by 1%.
8. The top five enterprises for poly-si materials, wafers, cells, and modules continue to dominate. For poly-si materials, the top five enterprises accounted for 87.5% of all production capacity. For wafers, the top five enterprises accounted for 88.1% of all production capacity. In terms of cells, the top five enterprises accounted for 53.2% of all production capacity. In terms of modules, the top five players accounted for 55.1% of all production capacity.
9. In 2020, solar enterprises raised a total of 68.2 billion yuan, a year-on-year increase of 279% over the 18 billion yuan raised in 2019. 14 solar related IPO's were held last year and 2 solar funds were established. Overall, banks have shown their willingness to support the industry going forward.
10. Supply and demand imbalance was seen in many parts of the supply chain last year causing prices of silicon material, solar grade glass, and EVA film to rise 50%, 100%, and 50% respectively.
Outlook for 2021
1. CPIA expects continued strong global market growth in 2021. According to the IEA, global energy demand is expected to increase by 3% in 2021. Renewable installations are predicted to grow by 10% with 54% which being solar.
2. In 2021, the global newly added installed capacity is expected to be 150 to 170GW. China's newly added installed capacity for the year is expected to be 55-65GW as the National Development and Reform Commission, Ministry of Transportation, Ministry of Construction, and the Ministry of Industry and Information Technology are formulating relevant policies to foster growth. During the "14th Five Year Plan" period, annual newly added capacity is expected to reach 70-90GW.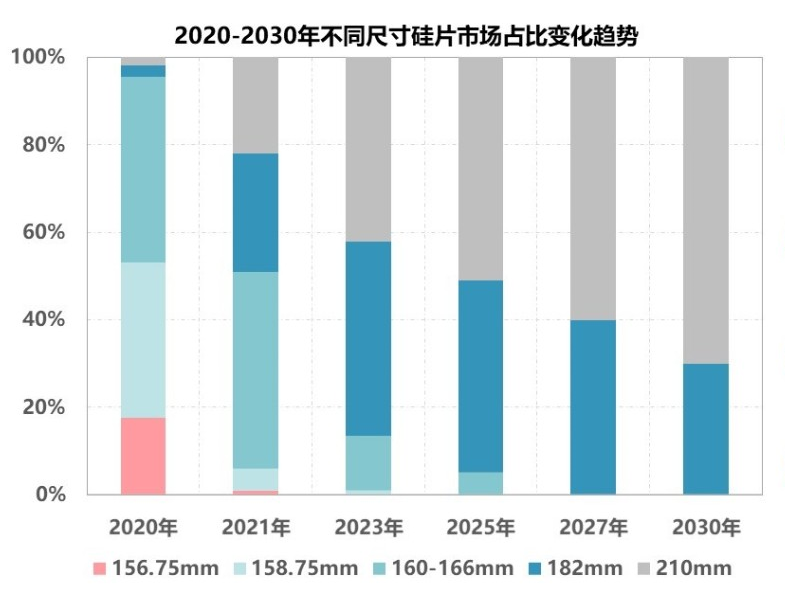 2020-2030 market share by wafer size (Source: CPIA)
3. From 2020 to 2030, the industry as a whole will transition to 500W and 600W high-power modules. Furthermore, large size wafers will dominate the market over the next 10 years. In 2021, 182mm + 210mm wafers will occupy an estimated 50% of the market share. 160mm-166mm will occupy an estimated 45% and 158.75mm will occupy approximately 5%. By 2030, 182mm and 210mm wafers are estimated to occupy 100% of the market share.