PVTIME – Last year, despite the COVID-19 pandemic, the world's renewable energy industry grew at its fastest pace since 1999 according to the International Energy Agency (IEA).
According to the IEA, renewable generation capacity grew by about 275GW in 2020, a near 45% rise compared to the previous year. The IEA expects another 270 to 280GW to come online this year and again in 2022.
This accelerated renewable energy transition falls in line with the climate change goals of many countries including China and the United Stated. Last September, China's President Xi Jinping said China will increase its national determined contributions, adopt more vigorous policies and measures, and aim to have CO2 emissions peak before 2030 and achieve carbon neutrality before 2060. Meanwhile, United States President Joe Biden has pledged to cut the electricity sector's carbon emissions to zero by 2035 and achieve a carbon-free U.S. economy by 2050.
Solar energy continues to dominate renewable capacity expansion, accounting for approximately 49% of all new renewable additions. Installation of new renewables is increasingly costing less than the cheapest fossil fuels due to technological advancements and economies of scale bringing down the levelized cost of electricity (LCOE).
LCOE is the evaluation of the life-cycle energy cost and life-cycle energy production of an energy producing system. It allows alternative technologies to be compared to different scales of operation, investment, and operating time periods. At the same time, LCOE captures capital costs and ongoing system-related costs, along with the amount of electricity produced, and converts them into a common metric.
According to many experts, LCOE is a much better performance metric that reflects true system performance and, therefore, true investment returns. LCOE points us toward grid parity as it enables the best cost/performance decisions.
During this critical period for global energy transition, the continuous pursuit for the lowest LCOE has become a major focal point for the photovoltaic industry.
Between 2010 and 2019, the global weighted-average LCOE of utility-scale PV plants declined by 82% from around 0.378/kWh USD to just 0.068/kWh USD thanks to the continuous improvements in cell conversion efficiency, module power output, and the constant decrease in the cost per watt of PV modules.
PV power generation technology seems to be advancing at a quicker pace, as evidenced by the faster-than-conventional speed in updating of product technology. Especially since 2019, driven by the increased popularity of large-size silicon wafer technology, various types of ultra-high-power modules have appeared in the market, directly upping the most leading module power from 410W in 2019 to 445W in the first half of 2020 and further to 500W+ or beyond in the second half of 2020.
Last November, many industry leading enterprises including Sungrow and Nextracker attended a grand conference co-sponsored by JA Solar, Jinko Solar and LONGi titled "Advanced PV Technology for Better LCOE – 182mm Module and System Technology" in support of the benefits high-power modules in large sizes brings in reducing LCOE.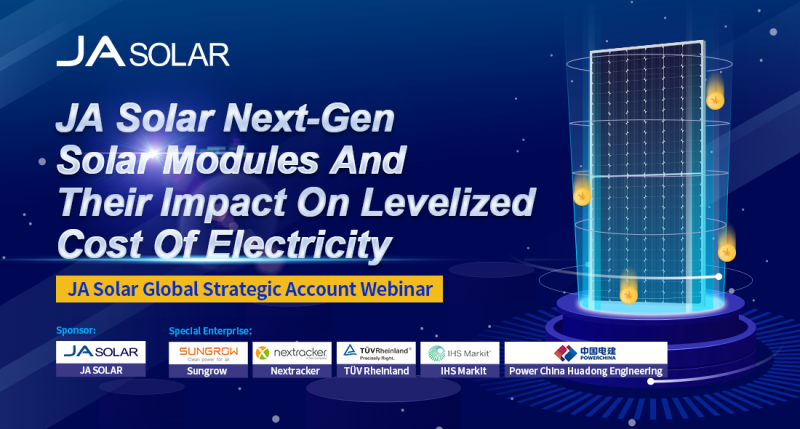 With technological innovation as its development foundation, JA Solar has further improved its research and development investment since the beginning of 2020. By applying multiple technologies including M10 wafer (182mm size) technology, PERCIUM+ technology, multi-busbar (MBB) and half-cell technology, etc., JA Solar has made true on its pledge and launched its mass-produced DeepBlue 3.0 high-efficiency and high-power PV module capable of reaching up to 590W in module power, offering customers a solution with lower LCOE.
With the arrival of the grid parity era, the industry has recognized the benefits of deploying high-power modules in large sizes for their ability to reduce the LCOE. More importantly, increasing installed capacity has the extremely positive consequence of driving down the price and thereby making renewable energy sources more attractive, earlier. In the coming years most of the newly increased electricity demand will come from low and middle-income countries; we have the opportunity now to ensure that much of the new power supply will be provided by low-carbon sources.
Falling energy prices also mean that the real income of people rises. Investments to scale up energy production with cheap electric power from renewable sources are therefore not only an opportunity to reduce emissions, but also to achieve more economic growth.
In many countries, the electric sector is undergoing a transformation marked by the entry of photovoltaic generation, making the diffusion and the competitive substitution of energy technologies substantially affect the dynamic evolution of the structure of the electrical sector. Solar energy stands out in the transition from non-renewable electricity generation to renewable energy, especially regarding the distributed generation.
As nations approach a subsidy-free era, growth in solar adoption and LCOE reduction will heavily depend on further technological improvements in terms of efficiency and cost effectiveness. Join PVTIME on Oct 20th via Zoom to learn more about next-gen solar modules and their impact on levelized cost of electricity.
Register for free at: https://us02web.zoom.us/webinar/register/WN_w9SwiTmXQQ2w5ql3DswrBg