PVTIME – On December 9, during the 2020 China Photovoltaic Industry Association Annual General Meeting, Trina Solar unveiled its Vertex Super Factory in Yiwu and welcomed delegations of industry experts and media partners to visit.
Currently, Trina Solar has built three 210mm super factories in Yiwu, Suqian, and Yancheng. By the end of 2020, Trina Solar's 210mm module production capacity will exceed 22GW, and its global production capacity will exceed 50GW in 2021.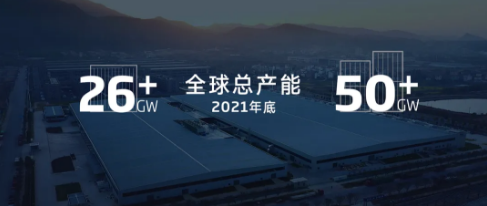 These three super factories embody the leading spirit of China's photovoltaic industry and are an indication that the development of the 210mm industry chain has matured, and customer recognition and acceptance of 210mm products are rapidly increasing. Today, let us explore the power inside of Trina Solar 210mm Super Factory.
From construction to equipment outfitting, Trina Solar's Yiwu 210mm super factory project was completed in just 112 days. On July 29, phase I (4GW) of Trina Solar's Yiwu production base began production and the groundbreaking ceremony for phase II (4GW) was held. This is the world's first large scale ultra-high power module production base with 210mm silicon wafers, cells, modules, and other innovative technologies. The successful launch of the base is an important milestone in Trina Solar's development history and also signifies a new height for industry development.
"From the very beginning of the project, our core team tracked the progress and paid close attention to every detail. Our equipment department, production department, process department cooperated seamlessly during the entire construction process to produce high quality and efficiency. From groundbreaking to equipment mobilization, the actual construction time was only 112 days, setting a new industry record. " Trina Solar Energy Yiwu super factory general manager Yang Xiaojun commented.
Outside Yiwu, Trina Solar has built 210mm super factories in Suqian as well. The Suqian 210mm production facility has a total planned capacity of 12GW, and the first and second phases of the project have already been put into operation. The third phase is currently progressing rapidly and is expected to be completed by the end of 2020 with mass production being carried out in the first quarter of 2021. Elsewhere, preparations for Trina Solar's overseas 210mm super factory project are also underway.
The super factory is equipped with a large number of advanced technologies that have been researched and developed by Trina Solar for many years. In terms of module manufacturing technology, Trina Solar's Vertex series incorporates a number of forward-looking technologies such as non-destructive cutting, high-density packaging, and MBB. Trina Solar is also the first in the industry to apply low-temperature non-destructive cutting technology on a large scale. The combination of these innovative technologies gives Trina Solar's Vertex modules the characteristics of high efficiency, high power, high reliability, and provides significant reductions in system-side BOS and LCOE costs.
Intelligent automated manufacturing processes can be found everywhere inside the super factory. The new welding machines in the super factory can weld at the speed of 4000 pieces per hour, which is the fastest in the whole industry. The production speed of the press is also very advanced. The automatic visual inspection equipment based on artificial intelligence technology can directly detect the defects of products, effectively improving the detection efficiency and product yield.
Compared with previous facilities, Trina Solar's fully automated facility has reduced the number of staff needed by about 25% per GW. This is much lower than the current labor usage in 166mm or 158mm factories, effectively reducing labor costs.
Trina Solar has always paid attention to customer value and uses technological advancement to bring customers the most cost-effective, high-efficiency power generation products and the best product experience. "We already have a complete set of smart factory solutions and smart manufacturing data centers," said Yang Xiaojun, general manager of Trina Solar's Yiwu Super Factory. "Data has functions such as monitoring the production status of all facilities and customer order completion. It can be shared with the company's internal and remote customers in real-time. For customers, they can view the production process and key parameters of the product anytime and anywhere." Yang added.
The construction of Trina Solar's super factory has improved the efficiency and innovation speed of the photovoltaic industry, accelerated the industrialization of 600W+ ultra-high power module products, and helped China's photovoltaic industry maintain its leading position. As one of the initiators of the 600W+ Photovoltaic Open Innovation Ecological Alliance, Trina Solar will continue to promote the sustainable development of the photovoltaic industry and global energy reform.