PVTIME - Wattkraft, a German PV system integrator, has been Huawei Fusion
Solar Business's Value Added Partner for Europe since 2015 and was named
Huawei's first CSP partner in Europe in 2019. In 2019 alone Wattkraft has in
total distributed 1.6 GW AC Power. With the new agreement, Wattkraft is going
to provide European key markets with about 5 GW of Huawei's Fusion Solar Smart
PV string inverters in the coming 2 years.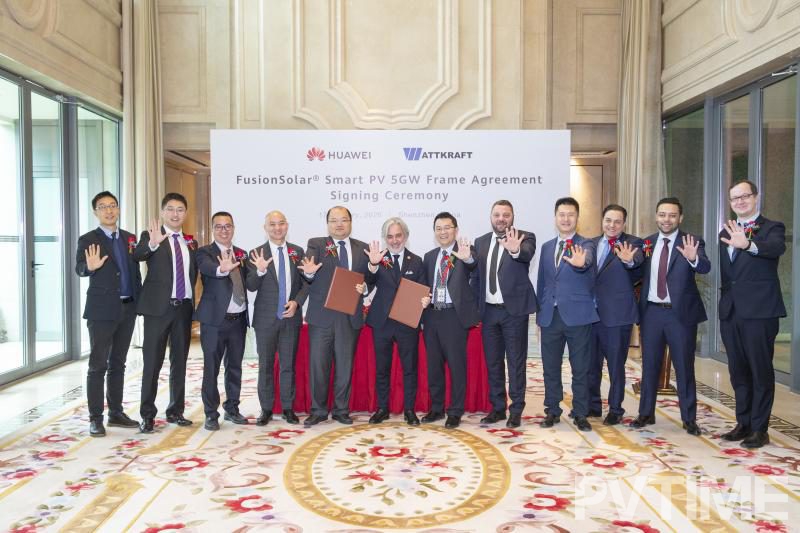 Ulf Hermenau, Director Channel Sales DACH at Huawei, said:
"We are happy to have found an extremely reliable partner in Wattkraft right
from the start and are looking forward to further strengthening our partnership
in the residential and C&I space with our latest smart solutions ranging
from 2 – 100 kW."
Giovanni Migliore, CEO of Wattkraft, mentioned at this
occasion: "Every
year we feel honored and at the same time proud of this unique partnership that
started already 7 years ago. Back then it was more a quiet wish, with a lot of
hope that both sides put into a common project. Now, after many efforts and
challenges but also positive team spirit, collaborative approach and clear
success, it has grown to become rock solid and fruitful. We are so thankful to
the whole Huawei team for their constant dedication, hard work, and always
loyal efforts, which faithfully have supported us all the time. With such a
foundation the future can only be even brighter!"