PVTIME recently obtained Chinese customs' import and export data for 2019. According to the data, the total export value of inverter enterprises registered in mainland China (including data of outsourced inverters manufactured in China) in 2019 reached 2.911 billion USD (about 20.053 billion yuan).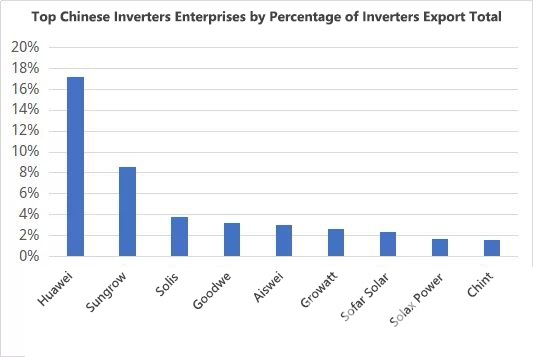 The top three exporting enterprises Huawei, Sungrow, and Solis accounted for 30% of the nation's inverters export total. Goodwe, Aiswei, and Growatt came in at fourth, fifth, and sixth respectively. When combined, the top five enterprises exported more than 1 billion USD in shipments. Huawei, in terms of exported sales, is the clear inverters export leader of 2019 with exports amounting to 17% of the nation's inverter export total. Compared to last year, Solis' ranking rose rapidly and secured third place this year.
Key Markets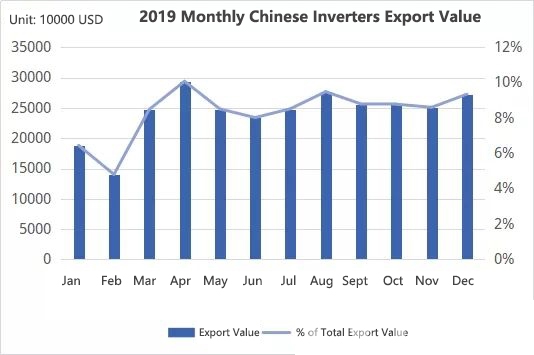 In the United States, Solis, Sungrow, and Chint have a combined market share of 474 million USD, and Chinese inverter exports to the US has exceeded 50 million USD every month in the last quarter of 2019. Chinese photovoltaic enterprises have also accelerated their push into the Indian market where the annual export total is now close to 150 million USD.
According to the European Photovoltaic Association, 2019 was the best year for EU photovoltaic development in recent history. The EU added 16.7GW of installed solar capacity in 2019, which is a 104% increase year-to-year. The Netherlands, according to the import and export customs data, is an important transit station for China's exports into Europe and accounted for 16% of the export share.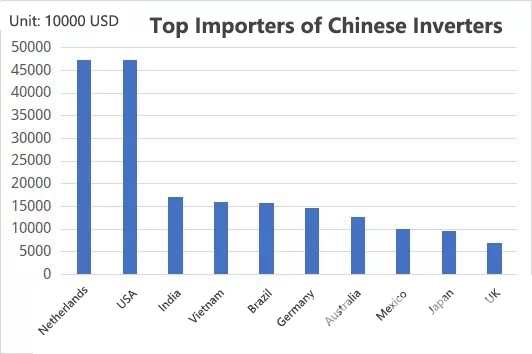 In 2019, inverter exports from China to Germany, the UK, Australia, and many other markets were all over 50 million USD. Additionally, the emergence of Chinese inverters can be witnessed in many countries around the globe including, Vietnam, Malaysia, South Africa, Mexico, Brazil, Poland, and Ukraine.