PVTIME – On May 20, TBEA New Energy launched its first international Webinar of 2020. Several photovoltaic industry leaders from various regions of the world were invited to share their knowledge on market trends, policy requirements, and case studies. The experts also engaged in a panel discussion focused on the effectiveness of artificial intelligence applications in the photovoltaic field, how to reduce costs associated with A.I applications, and effective strategies for penetrating the overseas market.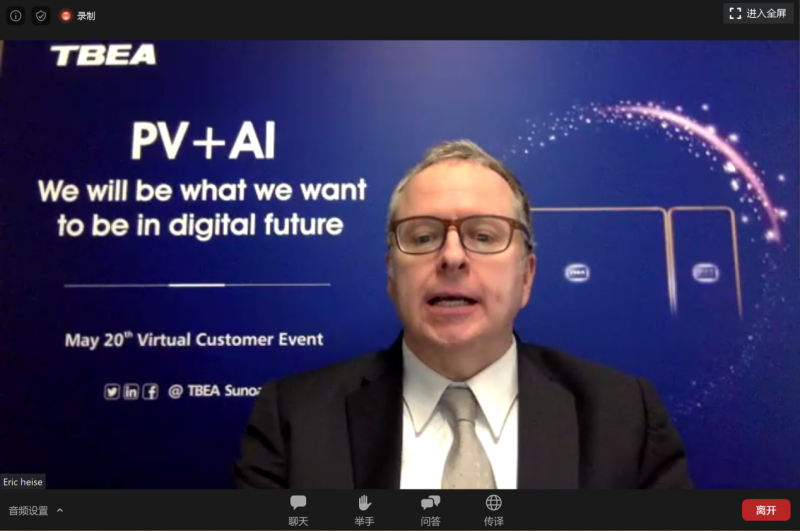 This international webinar also attracted the participation of photovoltaic professionals from all over the world, and fully displayed TBEA New Energy's strengths as an enterprise and its confidence in achieving success on a global scale.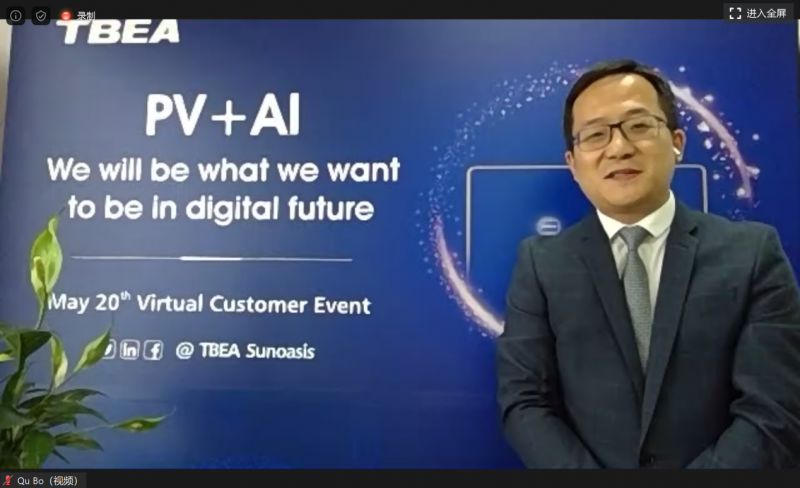 In his opening address, Deputy Manager of TBEA New Energy, Qu Bo pointed out, "TBEA New Energy has been cultivating in the field of photovoltaics for 20 years and has placed great focus on its core products such as the PV inverter, PSVG, power router, and energy storage systems. TBEA has developed eCloud platforms such as SCADA, EMS, and other systems utilizing big data and artificial intelligence. TBEA provides services such as optimal LCOE solutions, the comprehensive layout of PV power, wind power, smart microgrids, flexible DC transmission solutions and more." At the same time, he expressed that, "TBEA is wiling to work cooperatively with global industry partners to share technology as well as large ground PV stations development experience, promote the wide application of clean energy, and support the development of the world's green energy industry."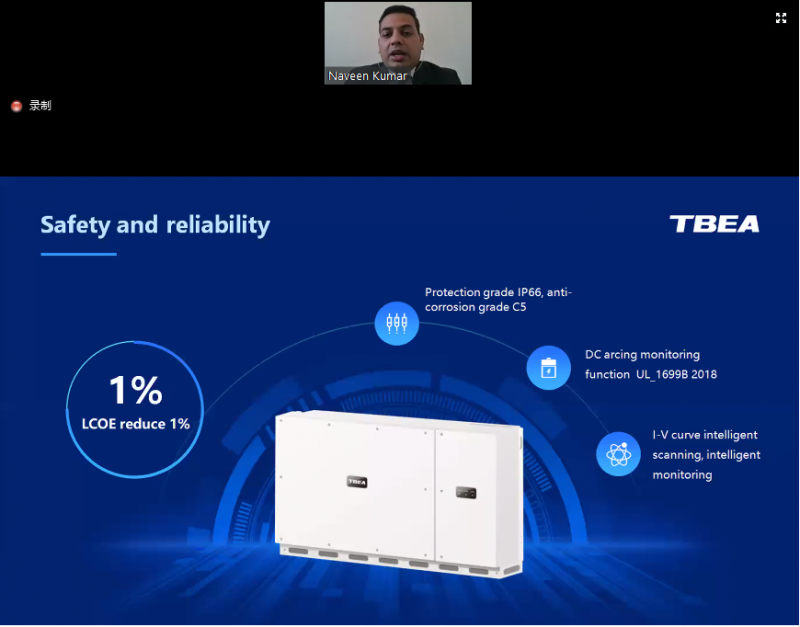 Naveen Kumar from TBEA Xi'an Electric Technology Co., Ltd., a wholly-owned subsidiary of TBEA New Energy, followed up by giving a keynote presentation on "New Energy System Solutions".
Mr. Kumar introduced in detail the TS208KTL-HV high power string inverter series and discussed what makes TBEA's "1500V system + block design + higher DC/AC ratio + intelligent operation and maintenance" the ideal system solution and how it is able to achieve the lowest LCOE goal for photovoltaic systems. DC/AC ratio plays an important role in improving utilization of PV assets for better returns and/or power generation. By having a higher DC/AC ratio, LCOE is reduced by 3%. TBEA string inverters are deigned to have 12 MPPT's & 36 strings. Due to this, it is able to achieve an industry best DC/AC ratio of up to 1.7. By combining high efficiency power generation, intelligent O&M, safety and reliable feature, a system's lifetime power generation is noticeably increased.
As an integral part of its microgrid solution, TBEA's new energy power routers and energy storage systems are being used in TBEA's Xi'an Industrial Park and the first batch of its domestic pilot projects. The high reliability of these technologies can stand the test of time, improve power generation capacity, and provide electricity savings to the stations.
During the webinar, TBEA provided live broadcast tours of its facility and production lines, providing the attendees with an up and close view of the inverter manufacturing process, demonstrating its "customer orientated", top of the line standardized delivery procedures.
Digitalization has become a long-discussed topic in the age of transformation and upgrading of the photovoltaic industry. With this in mind, the professionals at TBEA's New Energy Digitalization Centre provided the attendees with a presentation titled "How to achieve A.I-dominated digital operation of new energy plants".
The "TB-eCloud Intelligent Photovoltaic Operation and Maintenance Cloud Platform" and the "TB-eCloud Intelligent Photovoltaic Monitoring and Analysis System" have made remote monitoring of equipment status, inspection, fault handling, and intelligent diagnosis a reality. Breaking the limitations of time and distance, and replacing human judgement with A.I. The application of intelligent operation and maintenance cloud platforms in power stations improves the automation of defect warnings, location detection of equipment and system faults, and reduces the number of onsite inspections as well as O&M costs.
Supported on advanced technologies such as big data, cloud computing, and artificial intelligence, the TB-eCloud Intelligent Platforms are developed to efficiently, intelligently, and conveniently assist photovoltaic power stations with their operation and maintenance management tasks. Presently, more than 30 power stations, whose combined power generation capacity exceeds 5GW have been connected, and the power generation capacity at these plants have increased by more than 3%.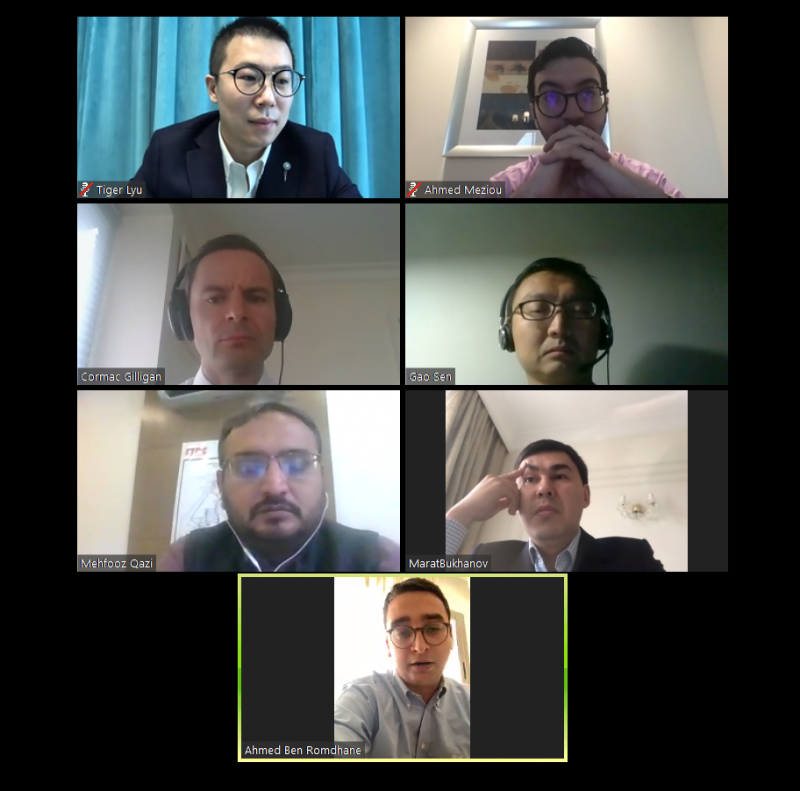 In the closing panel discussion titled "Global New Energy Changes in 2020', the guests shared their insights on the current and future development of the photovoltaic market. The guest panel included Ben Romdhane, Head of AMEA POWER's Middle East and North Africa Division; Marat Bukhanov, General Manger of Samruk Energy; Cormac Gilligan, Deputy Director of Solar and Energy Storage at IHS Markit; Ahmed Meziou, AMEA POWER's Senior Legal Counsel; Mehfooz Qazi, Director of Pakistan Sindh Energy Bureau; and Gao Sen, Deputy General Manager of Bank of China's Sydney Branch' Structured Finance Department.
During these pivotal times of transformation and upgrading for the photovoltaic industry, TBEA New Energy's cloud seminar bolstered the confidence of the industry and explored new ways for photovoltaic enterprises to compete in the overseas market. TBEA New Energy stated that it will continue to adhere to its developmental principle of "tirelessly creating solutions which allow for optimal electricity costs", contribute to the development of Chinese photovoltaic brands, and enhance the global competitiveness of China's photovoltaic industry.
In today's complex and ever evolving international market, possessing technological advantages is a key factor to stable performance. TBEA New Energy's commitment to technological innovation and breakthrough solutions, combined with its 70 plus years of electric power industry intelligent manufacturing experience, will guide its vision of "we will be who we want to be in the digital future!"