PVTIME – Due to the global economic downturn facilitated by the coronavirus pandemic, IHS Markit expects global installations to decline 16% to 105GW in 2020, compared to the 125GW installed in 2019.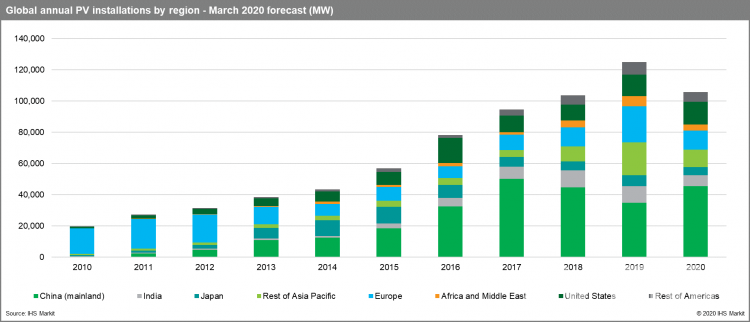 Component shortages from China caused by the extension of the Chinese New Year holiday break due to the COVID-19 situation has limited or delayed overseas installations.
Although PV component production in China is gradually returning to normal levels, the spread of the virus on a global scale has impacted the global market through lockdowns and travel restrictions.
"Throughout March, as the COVID-19 pandemic quickly spread around the world, disruption to supply has quickly turned to an unprecedented stall in global demand, switching the industry almost overnight from a sellers' market to a buyer's markets, "the report read.

"Almost all large projects originally planned for completion in H1 2020 will be impacted in some way, and roof-top installations will grind to a halt. COVID-19 will also severely hit the planning and kicking-off of new projects in H2 2020," said Dr. Edurne Zoco, Executive Director for the Solar & Energy Storage team at IHS Markit. "Our most-likely scenario assumes that restrictions will be slowly lifted throughout Q2 2020 and Q3 2020." Dr. Zoco added.
IHS believes that COVID-19 will severely impact the planning and initiation of new PV projects through the second half of 2020. Key growth markets in recent years such as Europe, India and the rest of Asia will be hit the hardest.
Unlike most other markets, IHS Markit expects China to reach 45GW in solar installations by the end of 2020, a 50% increase over the 30GW it had added in 2020.