IEA – After a year of market stabilization, preliminary reported market data shows a global annual PV market at a slightly higher level than 2018 and 2017. At least 114,9 GW of PV systems have been installed and commissioned in the world last year. The total cumulative installed capacity for PV at the end of 2019 reached at least 627 GW. While these data will have to be confirmed in the coming months, some important trends can already be discerned: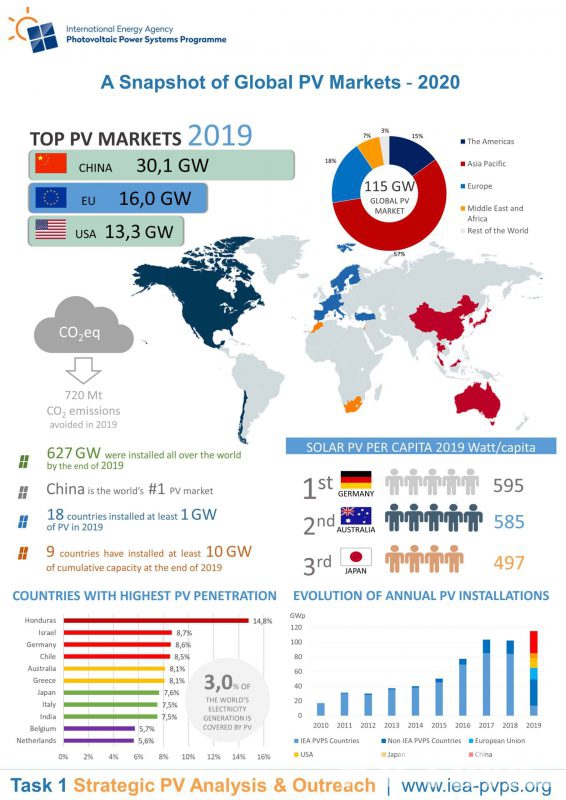 The Chinese PV market contracted for the second year in a row; from 53,0 GW in 2017 to 43,4 GW in 2018 and 30,1 GW in 2019. However, China remained the leader in terms of total capacity with 204,7 GW cumulative capacity installed, almost one third of the global PV installed capacity.
Outside of China, the global PV market grew from 58,8 GW in 2018 to at least 84,9 GW in 2019, a 44% increase YoY.

The European Union installed close to 16 GW and the rest of Europe added roughly 5 GW. The largest European market in 2019 was Spain (4,4 GW), followed by Germany (3,9 GW), Ukraine (3,5 GW), the Netherlands (2,4 GW), and France (0,9 GW).
The US market increased to 13,3 GW, with utility-scale installations accounting for roughly 60% of new additions.
India decreased slightly, with the annual market reaching 9,9 GW, including around 1,1 GW of distributed and off-grid installations during 2019
Japan ranks fifth, with an estimated 7 GW annual installed capacity.
Some other major markets contributed significantly in 2019, such as Vietnam (4,8 GW), Australia, with close to 3,7 GW, Korea with 3,1 GW, Brazil (2,0 GW), the United Arab Emirates (2,0 GW), Egypt (1,7 GW), Taiwan (1,4 GW), Israel (1,1 GW), Mexico (1,0 GW), followed by a declining market in Turkey (0,9 GW).

In the top 10 countries, there are now six Asia-Pacific countries (China, India, Japan, Vietnam, Australia and Korea), three European countries (Spain, Germany and Ukraine) and one country in the Americas (the USA).
The level to enter the top 10 markets in the world in 2019 was around 3,1 GW, the highest level ever and twice the level needed in 2018.
The top 10 countries represented 72% of the global annual PV market, a declining number signally that the market is less concentrated.
Honduras, Israel, Germany, Chile, Australia, Greece, Japan, Italy, India, Belgium, the Netherlands and Turkey now have enough PV capacity to theoretically produce more than 5% of their annual electricity demand with PV. PV represents around 3 % of the global electricity demand and 5% in the EU.
The contribution of PV to decarbonizing the energy mix is progressing, with PV saving as much as 720 million tons of CO2eq. At the end of 2019, PV contributed to reducing global CO2 emissions by 1,7% or 2,2% of the energy-related emissions and 5,3% of the electricity related emissions, compared to a world without PV. Much remains to be done to fully decarbonize and PV deployment should increase by at least one order of magnitude to cope with the targets defined during the COP21 in Paris, France.
Access the full snapshot at : https://iea-pvps.org/wp-content/uploads/2020/04/IEA_PVPS_Snapshot_2020.pdf