CHANGCHUN, CHINA, February. 5, 2019 /PVTIME/ - Solar installations in Europe
reached a record high of 23GWdc in 2019, a surge of 88% year-over-year and almost double the capacity
of 2018, reported market intelligence firm HIS Markit. The top-four PV markets of Germany, Spain, Ukraine and
Netherlands are estimated to account for almost 60% of the European demand in
2019 with 13 GW of installations combined.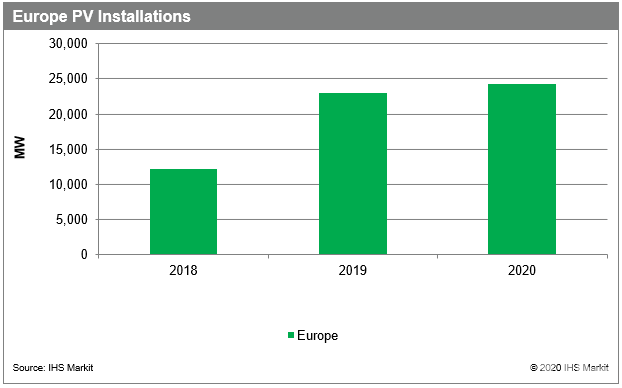 European installations are forecast to account for
18 percent of total global installations, an increase of six percentage points
compared to 2018. Contributing factors include a variety of favorable
macro conditions including low module prices assisting
the cost competitiveness of solar, return to growth of utility-scale driven by
tenders and PPAs, steady growth of distributed PV (DPV) across the region
driven by carefully managed policies and a broadening of the number of large
solar markets in the region particularly in Eastern Europe.
PV installations in Europe have now reached a new
level of critical mass with over 19 markets expected to have an installed base
over 1 GW by the end of 2019 compared to a decade ago when only Germany, Italy
and Spain had an installed base over 1 GW.
The projective growth over the next five years in
the European region is not without headwinds. According to HIS Markit, "grid
connection issues, planning permission issues due to large installed base of PV
in some local areas in key markets and shortening PPA terms as financial market
drivers move towards merchant payment terms can cause delays. However, overall
the European solar market is moving towards a new level of maturity and growth
trajectory driven beyond rich subsidies. Increasingly, it will be driven by
market fundamentals such as increasing interest from corporates, utilities and
off-takers considering solar as a cost competitive energy generation
source."