PVTIME – On January 26, JinkoSolar Holding Co., Ltd. ("JinkoSolar" or the "Company") (NYSE: JKS), one of the largest and most innovative solar module manufacturers in the world, its principal operating subsidiary, Jinko Solar Co., Ltd.(hereinafter referred to as Jiangxi Jinko), is officially listed on the Shanghai Stock Exchange's Sci-Tech innovation board.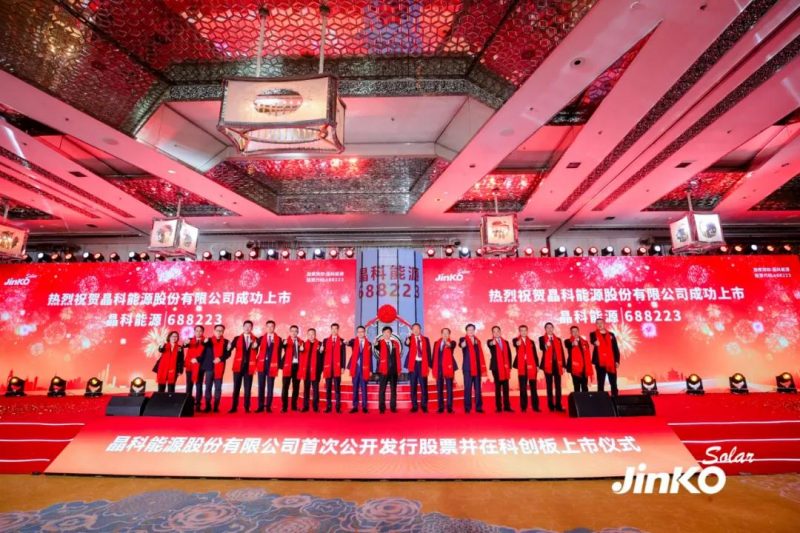 Jiangxi Jinko issues 2,000,000,000.00 shares representing approximately 20% of the total 10,000,000,000.00 shares outstanding after the IPO. The company's outstanding shares are 1.322 billion shares.
The opening price of the company was 8.5 yuan per share, which was 70% higher than the IPO's offering price of 5 yuan per share, while the company's opening market value was as high as 85 billion yuan, which was over 30 billion yuan higher than the issuance market value of 50 billion yuan. This is the highest opening price on the first day of the Sci-Tech innovation board and the photovoltaic sector so far.
The funds raised will be mainly used to further improve the company's R&D and production capacity of N-type high-efficiency solar cells and high-efficiency solar modules, thereby effectively consolidating and enhancing JinkoSolar's operating performance and leading market position.